Medieval Times Dinner & Tournament

Print this listing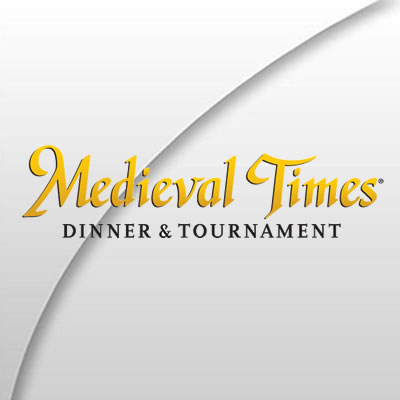 Kids Eat Free Card PLUS Offers:
Up to 22% Off Adult Admission Tickets (Total Savings Vary by Location)
Up to 22% Off Child General Admission Tickets (Total Savings Vary by Location For Children 12 And Under)
*Online Redemption Only at https://partners.medievaltimes.com/partner/DINE4LESS
*Offer Valid for General Admission Tickets. Optional Upgrades Available
An Epic Tournament Like No Other
The top knights of our kingdom will battle with brawn and steel to determine one victor to protect the throne. Join us as we feast and raise a goblet to our Queen.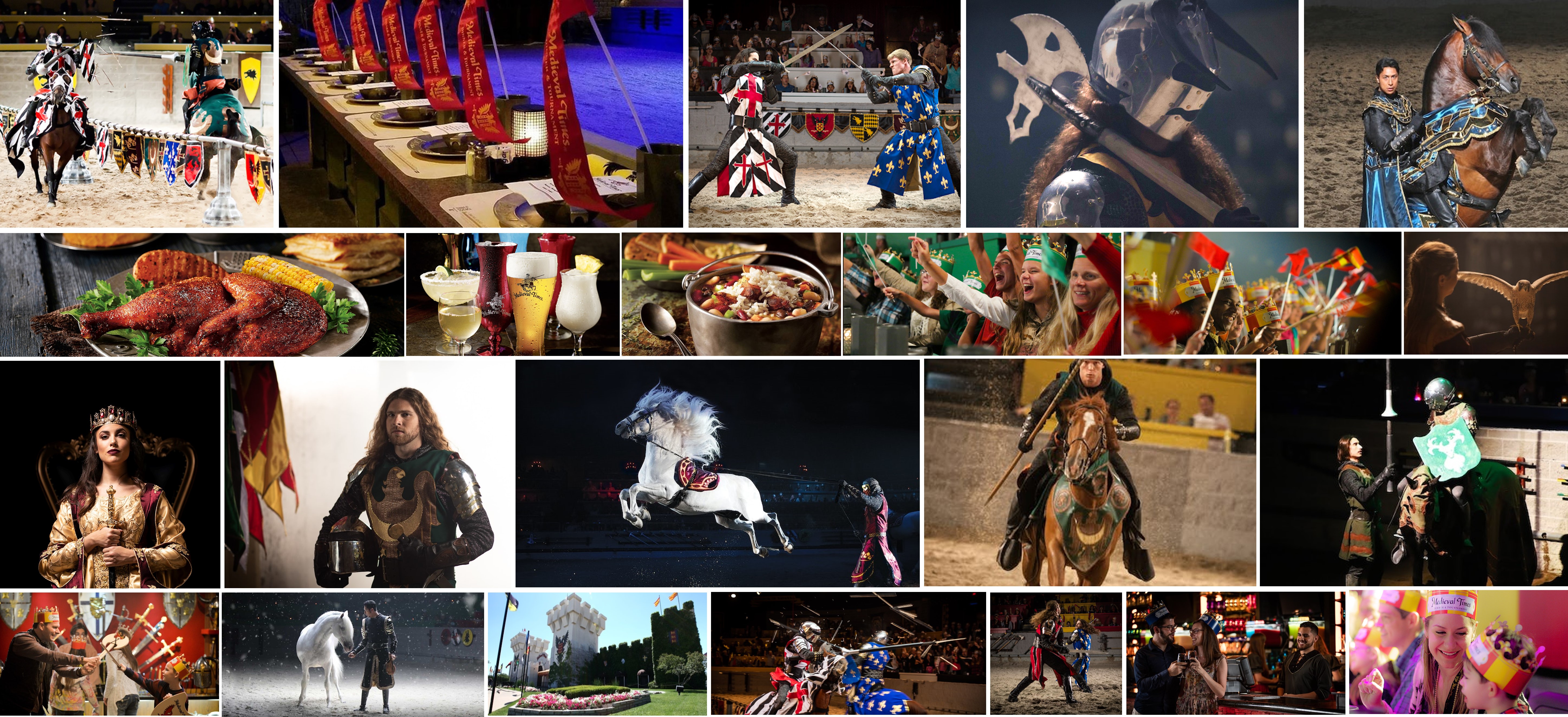 BY ROYAL DECREE
The Queen of the Royal Court invites you to travel through the mists of time to a festive celebration where you'll be in awe of gallant knights and majestic horses.
The Battle
Revel in the Ultimate Contest of Honor and Showmanship. The fun begins the moment you walk through the castle gates and you're instantly immersed in Medieval Spain. Memories are waiting to be made and an unforgettable battle for the ages is waiting for you to arrive.
The Show
Hang on to Your Helmet! The show is about to begin. Take in every moment of your legendary trip with us – Discover the experience.
Medieval Times Dinner and Tournament is North America's #1 dinner attraction. Guests enjoy a living link to the past where glory, chivalry, and valor of old burst to life. As the excitement unfolds, guests enjoy a hearty four-course feast.
Your Journey is About to Begin
From the moment you arrive at the castle to the final scene, you will be taken on the journey of a lifetime.
Arrive at the Castle Gates
Enter across the drawbridge and into the Medieval style castle to begin your journey. Upon arrival to the castle you will be crowned with the colors of your kingdom. Warm up your voices and get ready to cheer your brave knight to victory!
The 11th century comes alive as you explore the castle. Suits of armor stand guard as you walk thru Her Majesty's halls. Discover treasures and trinkets to commemorate your visit and stop by the bar for refreshing libations.
Commemorate the day with a group photo and gear up for the journey ahead.
Explore the Hall of Arms
Before the show begins, the Hall of Arms is a place to gather and explore all the castle has to offer.
You won't have to walk far to come across medieval artifacts. Our Hall of Arms features elaborate medieval décor as well as coats of arms for many prestigious families and a spectacular array of medieval weaponry. Those looking to get the revelry started can purchase a sword at the gift shop or partake in an adult beverage from our bar.
You can join the ranks of the elite by partaking in our pre-show knighting ceremony and even meet the highly skilled horses and falcon that are part of the show.
The Lights Dim, the Drama Unfolds and One Emerges Victorious
Only one knight will win the tournament and be named Defender of the Throne!
Crown the Winner
Cheer on your Knight and enjoy the after show Experiences.
Represent your colors and root on your knight as he jousts and competes in hand-to-hand combat.
After the show, join us back in the Hall of Arms for photos with the knights. The gift shop remains open after the show, as well. Safety protocols vary per castle on photos and post-show experiences.
The Feast - Your Dinner Is Served
A Four-Course Meal Fit for Royalty.
Queen Maria Isabella welcomes you to dine with her and her royal court. Always a generous host, the Queen has commanded her royal chefs to cook her favorite meal just for you.
Medieval Times' noble guests feast on garlic bread, tomato bisque soup, roasted chicken, sweet buttered corn, and herb-basted potato. And a feast isn't complete without dessert! Satisfy your sweet tooth with a treat worthy of royalty served with hot coffee. Based on supply, an item from our feast may occasionally be substituted for a different item.
Special Dietary Accommodations for Royals
We offer an array of meal options for those who are vegan, vegetarian or gluten-free, as commanded by the Queen.
The vegan meal includes a generous serving of hummus with carrot and celery sticks, a main course featuring three-bean stew with fire-roasted tomato and brown rice, and a choice of fresh fruit or Italian ice for dessert.
The vegetarian option includes all of these vegan dishes along with a side of warm pita bread.
Gluten-free meals available upon request include tomato bisque soup, hummus, carrot and celery sticks, as well as the main course of roasted chicken, sweet buttered corn and herb-basted potato. You receive your choice of fresh fruit or Italian ice for dessert.
LIBATIONS FOR ALL - Grab a refreshment from the bar or request a drink from your server.
All of our guests can choose a non-alcoholic beverage of the castle upon being seated. We offer rotating specials, specialty drinks and large overflowing steins to liven the scene even more!
All Nutrition Information
Under Royal Decree, we provide robust nutritional information, so those with food allergies are privy to our ingredients. Based on supply, an item from our feast may occasionally be substituted for a different item.
*Menu subject to change
*A full-service bar is also available for additional fee
What to Expect at Each Particpating Location:
RETAIL AND ATTRACTIONS COMMUNITY
Locations
Arizona
South Carolina
Ontario
Texas
Maryland
California
Illinois
New Jersey
Georgia
Florida
Total votes: 1
Rate This Venue