Shoney's Old Town

Print this listing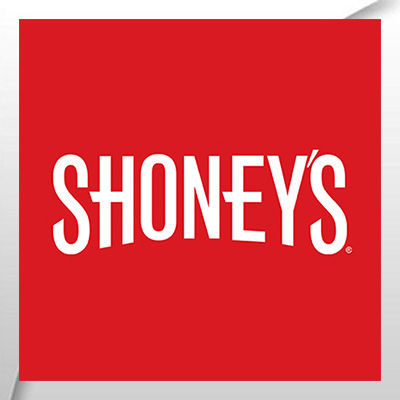 Kids Eat Free Card Offer: Kids Eat Free Off Regular Kids' Menu
Generations have come to know Shoney's as an American favorite for family dining. That's because our guests can count on us for quality, delicious food and warm friendly service, every visit. This consistency to high standards is only possible through a culture of core values instilled in our people. Fresh Food. Family First. Community Focused. It's as simple as that. We not only believe in these, we live them.
Freshly Prepared
At Shoney's, we value fresh quality over fast and fancy. It's why our food is always so delicious and a great value to our guests.
Family First
We've always been a family dining establishment. A place where guests come first. Here you'll find warm, friendly Southern hospitality, with a twist, to delight and bring smiles each visit.
Community Focused
Shoney's is a great spot for neighbors to meet & connect. We also believe in serving our communities. That's why we actively support local programs providing scholarships, career guidance, support for local police and much more.

Proudly Serving All-American Food For Over 75 Years
Shoney's is Today's All-American Kitchen. We've grown a lot since our first location opened doors in 1947. Today, Americans can find Shoney's restaurants in 16 states. Our warm, welcoming environment keeps generations coming back for another serving.
1947: A Franchise is Born
In 1947, the first Shoney's drive-in restaurant was opened in Charleston, West Virginia. Five years later, the name was changed to Big Boy Restaurants – only to be renamed three years later to what is now known as Shoney's.
1977: A New Era
30 years after kicking off as a Big Boy franchise, Shoney's dropped the affiliation, swapping its iconic Big Boy mascot for our very own Shoney bear. As Shoney's, the family-friendly restaurant expanded steadily, rolling out scores of new locations.
2007: New Leadership
Shoney's received an advantageous boost, as leading entrepreneur, David Davoudpour purchased the company, instilling new energy, passion and purpose. Mr. Davoudpour demonstrated his deep commitment to bringing this American icon back to its glory days by making Shoney's the model of excellence. He began with a new vision, focusing on three key principles: simplicity, innovation, and giving back to communities. This became Mr. Davoudpour's primary mission for Shoney's.
Now: A Fresh Direction
Under the direction of Shoney's Chairman and CEO David Davoudpour, we continue to pride ourselves on delicious tasting food, great value and great service. All delivered with warm, Southern hospitality, with a twist. We're revitalizing many of our locations with an exciting new direction and a renewed focus on fresh, never-frozen, All-American food, family and community. Come see us soon!
Location
Oldtown/Kissimmee Area
5764 W. Irlo Bronson Memorial Hwy
at Oldtown
34746
Kissimmee
,
FL
Florida
Total votes: 1
Rate This Venue